Welcome new Chamber members!
By Brainerd Lakes Chamber
june 9th, 2021
Our Chamber community continues to grow stronger! These new members come from all sectors of business in the Brainerd Lakes Area. Read below to learn more about each of their unique stories. #LakesProud #StrongerTogether
7822 Fairview Road
Baxter, MN 56401
(218) 829-1764
Our mission is to help the Brainerd Lakes Area manage the risks of everyday life, recover from unexpected and realize their dreams. We take care of our customers through auto, home and life insurance.
36626 Pine Bay Drive
Crosslake, MN 56442
(218) 820-7233
The Garage Guys of Crosslake, MN are experienced Brainerd area residential garage contractors / builders – will take you through the process of finding the right garage door for your needs – quality!
PO Box 682
Nisswa, MN 56468
(218) 270-4802
Technology consulting for businesses and residential clients. Call for an appointment.
Brainerd, MN 56401
(651) 433-7199
Honey Badger Analytics (HBA) helps businesses, governments entities, and all others embrace the power of location. We help get your data on the map and working for you.
4552 Main Street
Pequot Lakes, MN 56472
(218) 830-4335
Geek2Go is a local, all-in-one solution for your computer, home & commercial technology needs. We serve the Lakes Area, including Brainerd, Pine River, Pequot Lakes, Breezy Point, Crosslake, and Nisswa.
Residential construction in the Brainerd Lakes region. We take your vision and turn it into a reality.
General building contractor, homebuilder, remodels.
Burlington Recovery Homes
12950 Knollwood Drive
Baxter, MN 56425
Burlington Recovery Homes provide safe sober living environments for individuals to continue their journey in recovery. Housing support with services.
7969 65th Avenue SW
Motley, MN 56466
People come to our PATH Intl. Equine Assisted Activities or Therapies (EAAT) centers because there is nothing else like it in the world. Therapy takes place outdoors or in a barn with a pony/horse.
8330 Hwy 210 West
Baxter, MN 56425
There is nothing cookie-cutter about your local Baxter Pizza Hut–not our pizza, not our people! We don't settle for anything less than food we're proud to serve. We live life "unboxed".
Affordable website design, branding & computer services In Brainerd, MN. Clean, professional designs that are perfect for your ideal customer. Make Your Website Work As Hard As You.
Impel Authority Marketing Solutions
Isle, MN 56342
(612) 424-3221
As a Marketing Strategist, I can show ANY business owner in less than 45 minutes how to triple their current leads, double their sales, and increase their annual revenue with no advertising spending.
RIBBON CUTTING: Farmers Insurance - Tyler Monda Agency
510 Laurel Street
Brainerd, MN 56401
(218) 828-4488
Local agency providing insurance education and solutions for your personal and professional needs.
RIBBON CUTTING: Outlet Recreation.com
31956 County Road 3
Crosslake, MN 56442
(218) 765-3088
Outlet Recreation.com has a great variety of RVs, boats, pontoons, fish houses & docks. Outlet Recreation of Crosslake, MN allows for an enjoyable experience when looking for the ideal rec vehicle.
Baxter, MN 56401
(218) 282-6971
Lawn maintenance, landscape solutions, tree & shrub work, stump grinding, spring & fall cleanups, aerctions, dethatching.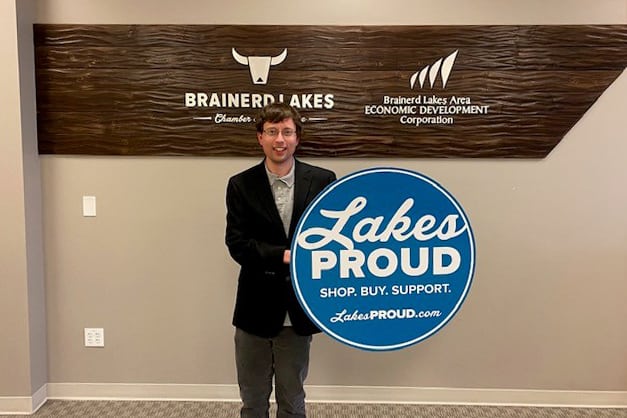 210 Todd Street South
Long Prairie, MN 56347
(320) 219-2875
Ring Studios provides creative and innovative solutions to technology & social media branding to area small businesses. We are in cooperation with Core Computers in Baxter, MN.
35272 County Road 3
Crosslake, MN 56442
(218) 821-3971
We are the Brainerd Lakes Area premier painting & remodeling company. Specializing in custom built composite decks, log & maintenance free railing & full exterior log & cedar home staining.
Deerwood, MN 56444
(612) 207-0338
Veteran-owned company. Locally based out of Deerwood serving the Brainerd Lakes Area. We offer services as: dock & lift installation & removal; landscaping, and snow plowing.