Lake Country Cares is a COVID-19 safety campaign designed to build trust among residents, visitors, and local businesses. It's our community promise to take care of each other by adopting easy and effective practices to prevent the spread of the virus. Working together, we will lead the way as life resumes in Minnesota. We are safer together.
Businesses: Submit Your COVID-19 Preparedness Plan
The State of Minnesota requires businesses to create a COVID-19 Preparedness Plan before they can reopen. It must be posted, follow a template, and cover items unique to your business. As a courtesy, the Crow Wing County Health Department has volunteered to review COVID-19 Preparedness Plans to ensure they meet state guidelines. To build consumer confidence, plans will be posted on the Lake Country Cares website. 
Chamber News & Local Updates
The latest information from the Chamber and our members.
State Fire Code: Occupant Load Determination Information In light of Executive Order 20-56 related to the reopening of business and retail across Minnesota, it is important to maintain proper occupant loads. Below are information sheets to help businesses across our …
To save our small businesses from closing their doors forever, we support the immediate development of a plan to reopen Minnesota businesses with state-recommended public health and safety accommodations as soon as possible. Local businesses should be allowed to reopen by conscientiously enacting these measures in a way that makes sense for their customers, facilities and operations. Delaying action will cause irreversible economic devastation to our Brainerd Lakes Area communities.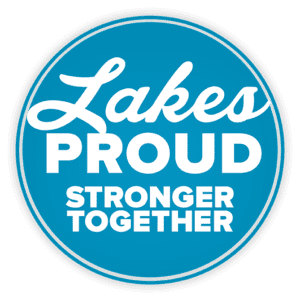 We Are Stronger Together.
Join businesses and individuals from across the Brainerd Lakes Area as we stand together LAKES PROUD! Show your support of our local businesses by downloading the Lakes Proud logo from the link below. Display it proudly on your website and on social media. We are Stronger Together!